The airport was created in 1998 and caused quite a stir as many Gazans had never seen a plane before in their lives.
Time the world realises that Gazans have the right to their own airport and seaport with open spaces they can finally be able to live with goods coming in and have peace they do not care about israel as long as israel does not keep up their incursions and bloodthirsty ways, especially as over 99% of all broken promises and truces and treatises have been by Israel.  Israel knows that once these are opened they will not have a raison d'etre to be want to keep up their massacres as the Gazans will be too busy living their own lives, farming, opening up factories, living just like any other free citizens lives.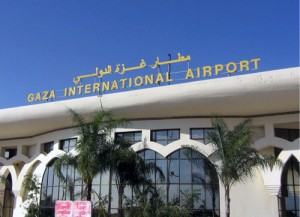 "It may look like a little airport to you, but to us, it's bigger than John F. Kennedy," Nabil Shurafa, a travel agent in Gaza City told The New York Times then
within three years the airport was no more thanks to israeli aggression and bombardments to date – dashing all hopes for free movement of goods and people into the wee Gaza strip.
Further information about Gaza International Airport and also links and lots of pictures can be found on this facebook page